Access to a potentially life-saving defibrillator is unequal across England and Scotland, a recent study has shown.
Heart experts are calling for people across the country to be afforded equal and quick access to a life-saving automated external defibrillator (AED) machine 24 hours a day.
It comes as a study in Heart Journal reveals that people living in more deprived areas of England and Scotland live further away from a fully accessible defibrillator than those based in wealthier areas.
A defibrillator gives people the best chance of survival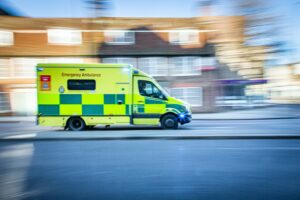 Across the UK each year, ambulances are called to the aid of around 30,000 people who have suffered a cardiac arrest outside of hospital. The survival rate is just 1 in 10.
Alongside cardiopulmonary resuscitation (CPR), a defibrillator gives people who have suffered a sudden cardiac arrest the best possible chance of survival. With every minute that passes between suffering a cardiac arrest and receiving defibrillation, however, a casualty's chance of survival reduces by 10%.
Around a third of cardiac arrests happen during the weekend and 4 in 10 happen during the night, meaning that quick access to a life-saving defibrillator on any day and at any time is crucial.
However, this study found that people in poorer neighbourhoods lived further away from a defibrillator that was publicly accessible 24 hours a day.
24/7 access to a defibrillator less likely in poor areas
In England and Wales, the distance to the nearest defibrillator was actually shorter for poorer communities, with no apparent difference between rich and poor areas in Scotland. However, many of these machines were located in schools, community halls or supermarkets and therefore could not be used outside of working hours.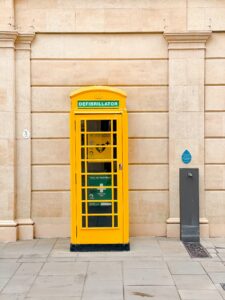 When focusing specifically on defibrillators that could be accessed 24 hours a day, the study found that people in poorer parts of England lived, on average, 99m further away from a life-saving machine than those in the richest areas. In Scotland, people in poorer areas lived 317m further away than those in richer neighbourhoods.
The study used locations of AED machines as collated by the British Heart Foundation in 2022, using information provided by ambulance services, charities, organisations and individuals across the UK. It found that, on average, a public access defibrillator is 726m away from the centre of any given postcode along the road network across Great Britain.
In the poorest areas, however, the nearest accessible machine could be a round trip of 1.8km away.
Equality of access to a defibrillator would 'save lives'
Life-saving AED machines are designed so that they can be used by anyone, without training, to help someone who is not in hospital but whose heart has stopped or is beating abnormally. The device works by checking the casualty's heart rhythm and then administers a high-energy shock to the heart to restore its normal rhythm if necessary. You cannot shock someone who does not need it.
It is essential that anyone using an AED calls 999 first.
The author of the Heart journal study, Dr Chris Wilkinson, who is also a senior lecturer in cardiology at Hull York Medical School, said:
"Making existing defibrillators accessible to the public 24/7 would make a big difference to the average distances people need to travel in an out-of-hours emergency, and would improve equality of access – which can help save lives."
Pam and Bill Shurmer, from Hartlepool, founded the charity DS43 Community Defibrillators after they lost their son Danny, 43, when he suffered an out-of-hospital cardiac arrest in 2021. He was fit and active with no previous health issues.
The charity raises money to install defibrillators in public and accessible places across Hartlepool. The couple aim to ensure that everyone in their hometown lives within a 350m radius of a defibrillator.
Pam has been involved in the research and said she hopes it "leads to better access to these life-saving devices."
Learn essential life-saving skills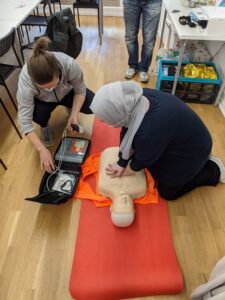 First Response Training is a leading national training provider.
They deliver a wide range of training in health, safety, first aid, fire safety, food safety, health and social care, mental health and welfare and other special focus topics for all industry sectors.
They have over 25 years' experience in delivering first class first aid training services, including First Aid at Work, Emergency First Aid at Work, Paediatric First Aid and Basic Life Support courses, all of which include training in the use of automated external defibrillators.
A trainer from FRT says:
"Defibrillators should be made easily accessible to all, as they really can save lives.

"Although you do not need training to use a defibrillator successfully, it's good to be familiar with one and how they work, and our courses cover this and include AED training models.

"In addition, this study demonstrates that you never know if one of these life-saving machines will be available. It's therefore vitally important for as many people as possible to learn essential life-saving skills and other first aid techniques so that they can act quickly and help people in an emergency. First aid training really is so valuable."
You can check the location of your nearest defibrillator online.
If you are a defibrillator guardian, make sure you register it online with the National Defibrillator Network.
For more information on the training that FRT can provide, please call them today on freephone 0800 310 2300 or send an e-mail to info@firstresponsetraining.com.